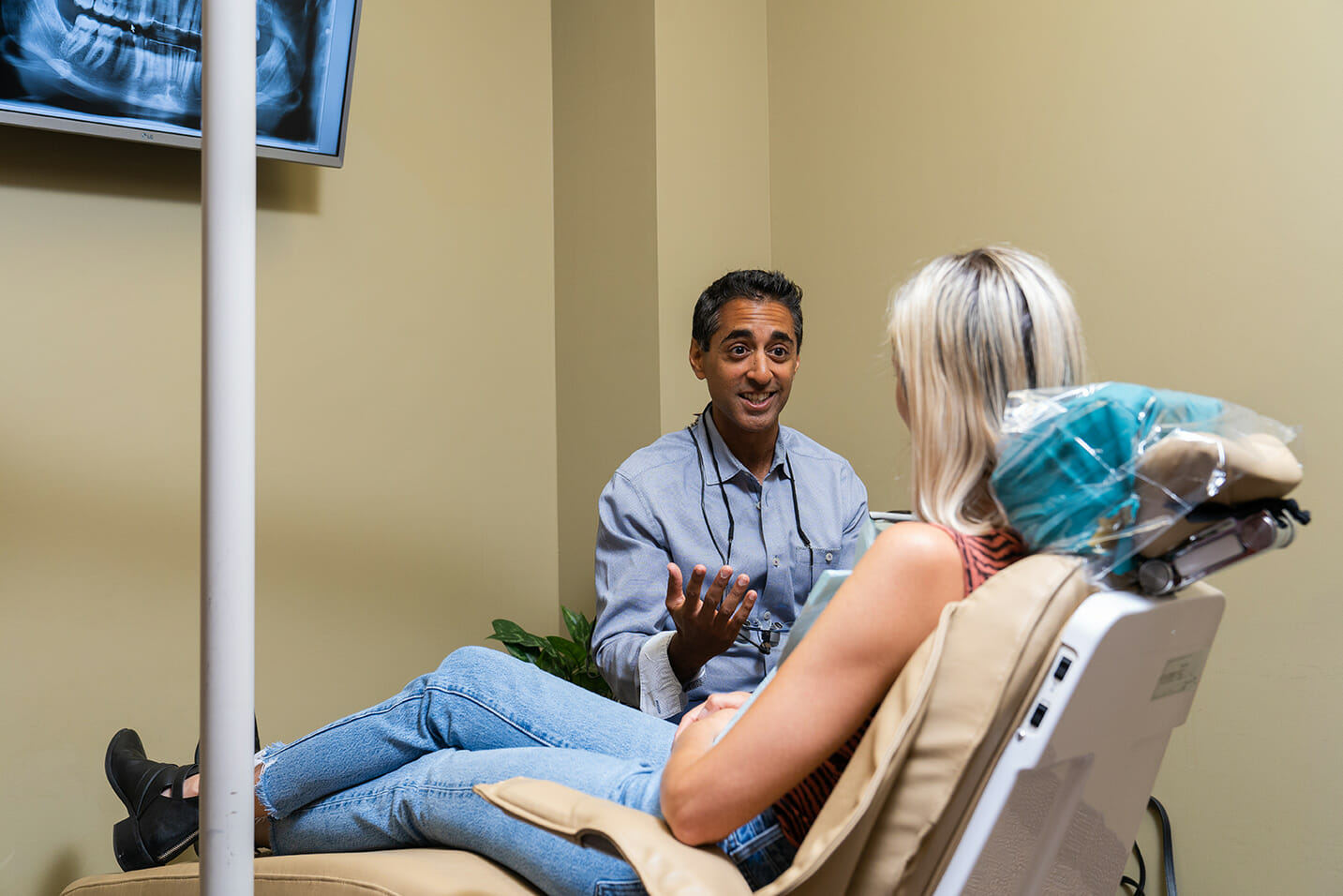 StoneRidge Dental Care offers an excellent solution for an instant smile makeover to straighten teeth, close spaces, reshape, and permanently change the color of your teeth. You can even have that "Hollywood" smile you've always wanted. Our Porcelain Veneers Gahanna patients experience amazing results and veneers are a fantastic way to fix front teeth that are crooked, small, or uneven. You can whiten your teeth, close spaces, and create a great smile. Our dentists can fix:
Spaces between the teeth
Broken or chipped teeth
Permanently stained or discolored teeth
Unnaturally small or crooked teeth
What are Porcelain Veneers?
Our Porcelain Veneers Gahanna cosmetic dentists at StoneRidge Dental Care take great care to create your veneers. They are made of very thin layers of porcelain and are bonded on the front of your front teeth. These veneers are about 0.3mm to 0.5mm in thickness but are very strong once bonded to your teeth. They have a "life like" appearance with the strength, beauty, and durability only porcelain veneer restorations can give you. Veneers have several advantages over crowns (caps). They transmit light better than bonding and, therefore, have a more translucent appearance giving a natural, esthetic look. Veneers do not require the massive grinding of tooth structure that caps do, yet, they accomplish a very natural esthetic look.
How do I choose the best dentists for porcelain veneers?
First, you should question the training of the dentist. Have they had any hands-on training since graduating from dental school? Have they had extensive experience in placing veneers? All of the doctors at StoneRidge Dental Center have had extensive training in veneer placement for beautiful, natural looking porcelain veneers Gahanna. It is important to choose a dentist who has had extensive training and experience in the placement of veneers. Sometimes we see the "chicklet" effect when patients have had veneers placed by dentists without comprehensive esthetic training. Large, bulky veneers, or too few veneers so that the front four or six teeth literally "pop" out at you is the result of a lack of esthetic training.
What can I expect?
A consult with any of the doctors at StoneRidge Dental Care is the first order of business to determine if you are a candidate for porcelain veneers and to convey exactly what you wish to accomplish. Your smile is important-it is the first thing people notice about you and it is essential that you are able to get exactly what you want from a smile makeover. Usually, impressions are taken and wax-up of what your smile will look like is completed. After you approve the wax-up and your questions are answered, you can proceed. The first appointment with your porcelain veneers Gahanna dentist will involve contouring of the involved teeth and fabrication of a set of temporaries which you will wear for approximately three weeks. At your second appointment, the actual porcelain veneers will be bonded into place and your new smile will be revealed. The results are instant and spectacular! And StoneRidge Dental Care is known as one of the best Porcelain Veneers Gahanna and Columbus dental practices in Ohio! Call StoneRidge Dental Care today, your Porcelain Veneers Gahanna and Columbus Ohio team.