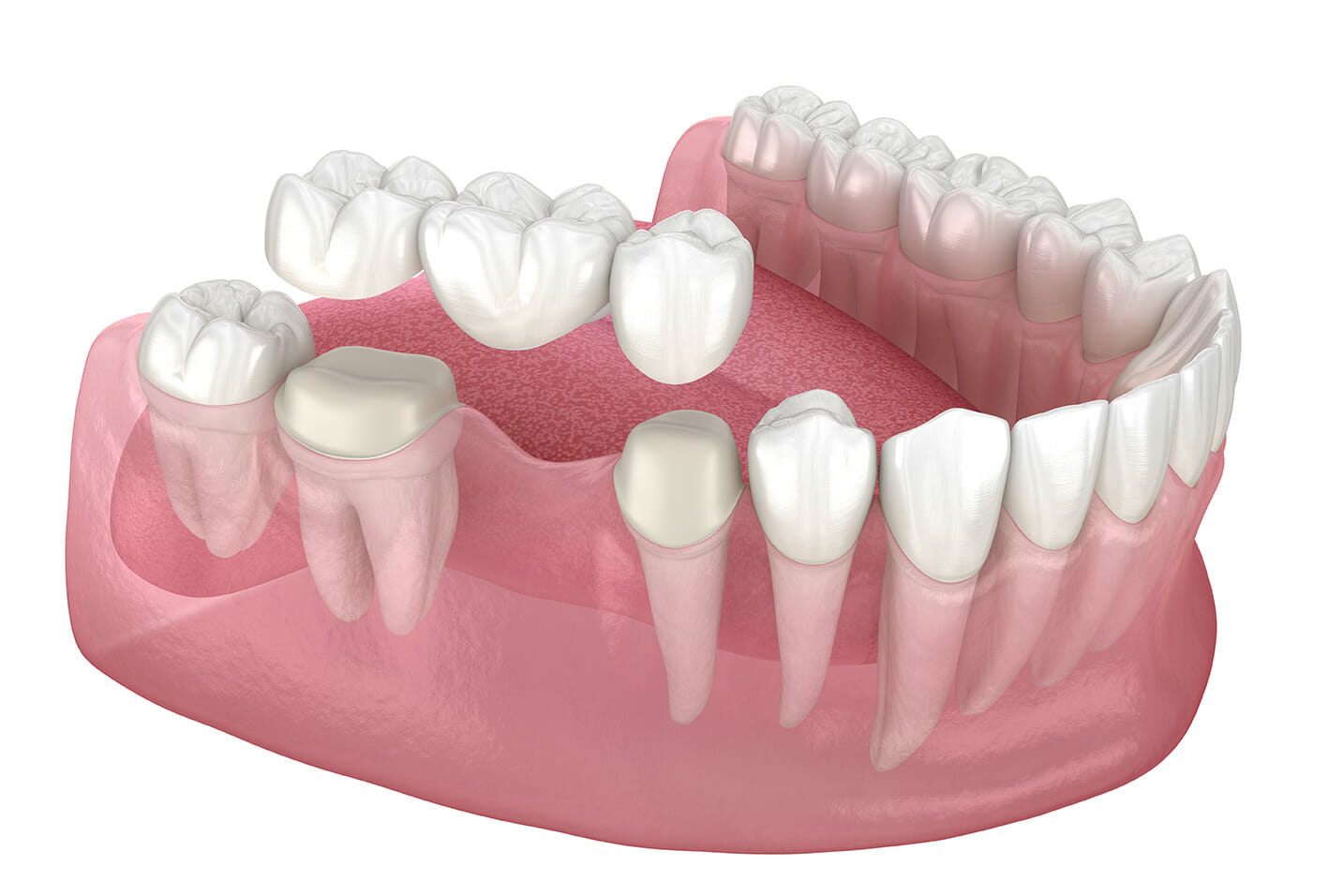 From dental implants and dentures to dental bridges, at StoneRidge Dental Care, we offer a variety of tooth replacement options. If you still have most of your teeth but are missing one or multiple teeth — all in a row — then a dental bridge might be the best tooth replacement option for you.
What Is a Dental Bridge?
A dental bridge is a popular tooth replacement option. It is a dental appliance that functions similarly to a bridge on a road. It consists of two anchor points that support a central pontic or the "bridge" portion of the device. The pontic floats above the gum line to replace one or more missing teeth.
Types of Dental Bridges
Traditionally, dental bridges are made from a material composed of ceramic or porcelain bonded to an interior biocompatible metal. The best type for you depends on your individual needs, care preferences, and general oral health.
Traditional Bridge
The traditional dental bridge features a central pontic anchored to two neighboring teeth for support using two dental crowns.
Maryland Bonded Bridge
A Maryland bonded bridge is similar to a traditional bridge, but it uses wire supports bonded to neighboring teeth with resin, rather than two anchoring crowns.
Implant-Supported Bridge
Rather than anchoring to natural teeth, an implant-supported bridge uses two dental implants to support the pontic.
Cantilever Bridge
A cantilever-style bridge is used when teeth are only available on one side of the gap for support, as is often the case with missing molars.
What To Expect When You Need a Bridge
The process of getting a bridge varies depending on the type of bridge you need. The first appointment always begins with a consultation. We then talk with you about your treatment options and walk you through the next steps for placing your dental bridge.
Are You a Candidate for a Dental Bridge?
If you are missing one or several teeth in a row, you might be a candidate for a smile restoration using a dental bridge. Dental bridges, however, are not the best treatment plan for everyone.
Our dentists' treatment recommendations are always based on each individual patient's needs. After a thorough examination and consultation, our dentists can recommend a treatment plan based on your smile goals, dental health, and medical history.
Learn More About Restoring Your Smile With Our Dentists in Gahanna
You don't have to continue living without one or more missing teeth. Our dentists at StoneRidge Dental Care are highly experienced in both cosmetic and restorative dentistry, and our office is fully equipped to provide a wide variety of treatments designed to help you get the smile of your dreams.
If your smile isn't currently up to your standards, we encourage you to schedule a smile restoration consultation with our dentists in Gahanna. We can examine your teeth, talk with you about your goals, and help you determine the best treatment plan to restore and improve the look and function of your smile.