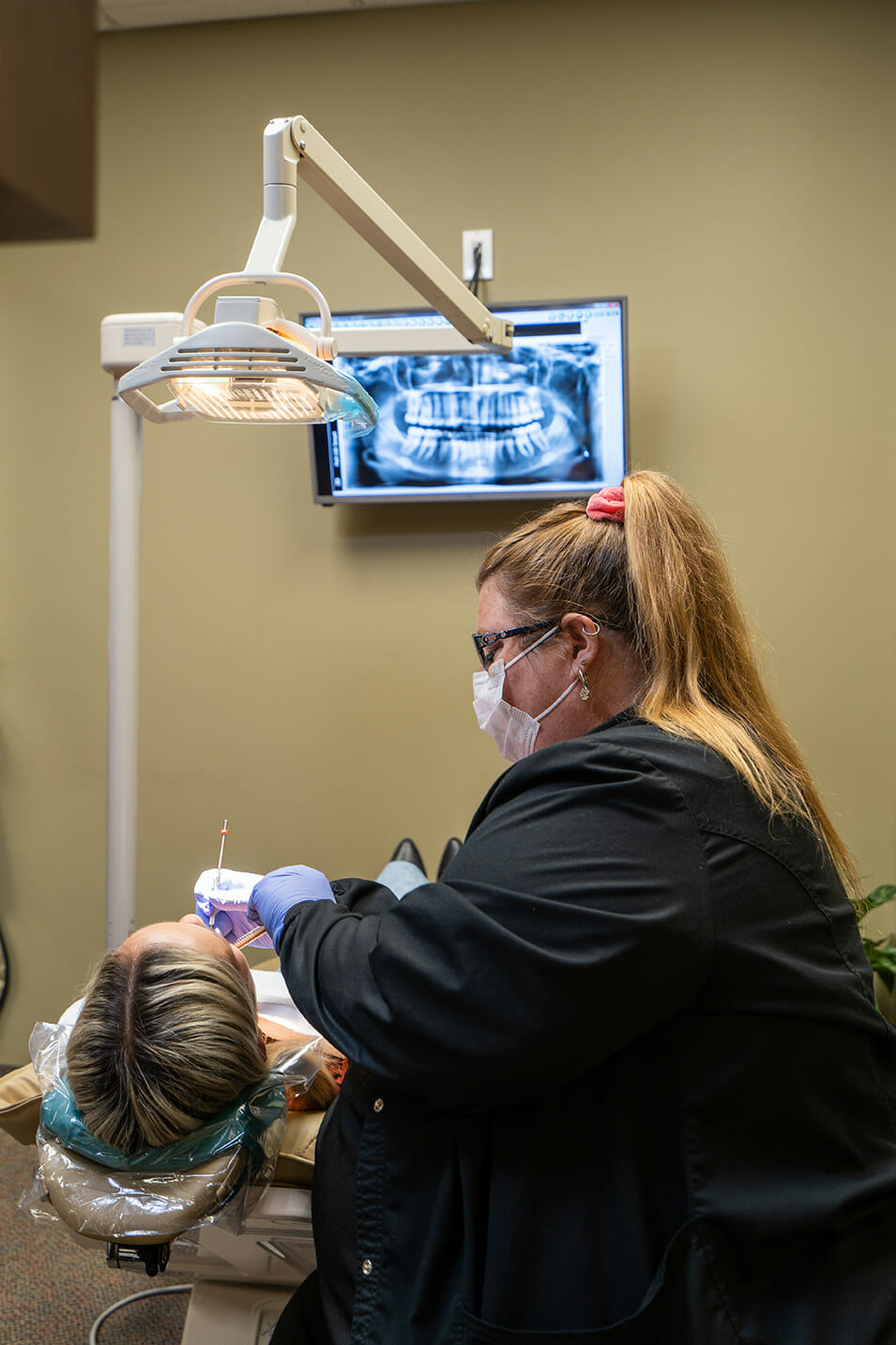 Dental hygiene refers to everything you do to keep your teeth and gums clean and healthy. In addition to brushing well and flossing regularly at home between dental appointments, professional dental cleanings and examinations should be an integral part of your dental hygiene routine. At StoneRidge Dental Care, our entire team is fully committed to providing our patients excellent general and 
preventive dentistry
, starting with our dental hygiene and examination appointments. We pay close attention to detail, work thoroughly and gently, and listen carefully to all of your oral health concerns.
What Can I Expect During a Dental Hygiene and Examination Appointment
Our team takes the time to know you as a person and discuss your questions and concerns about your oral health. Along with a general cleaning, we will ask questions about your individual concerns and needs so we can better understand you and how we can help with the future of your dental health. We assess your level of oral health and determine if your mouth is healthy, then decide the appropriate level of care you may need. This could include gum treatment, 
fluoride
,  periodontal therapy, LANAP or one of our other services.
Dental Prophylaxis (Professional Cleaning)
One of our dental hygienists works with you to thoroughly clean your teeth using special dental tools to remove plaque and tartar buildup. The hygienist polishes your teeth using a gritty paste and removes surface stains and discoloration with a rotating polisher. The hygienist then flosses and rinses your teeth.
Examination
X-rays, intraoral photos, and visual exams are used to determine the health of your teeth and gums; looking for any signs of tooth decay, periodontal disease, or other concerns. We use photos for co-diagnosis and if we detect any issues, we will communicate areas of concern and discuss further steps for treatment with you so everyone is on the same page.
Oral Cancer Screening
Your dental examination may also include an 
oral cancer screening
. We can use a VELscope device to aid in the visual detection of abnormal tissues in the oral cavity and use our hands to feel the soft tissues in your jawline, mouth, and neck for other abnormalities that could indicate oral cancer.
Digital Dental X-Rays
Digital x-rays
 enable us to detect signs of dental health concerns that cannot be seen with the naked eye.
How Often Should I Visit the Dentist?
We recommend that most patients visit the dentist every six months for an exam and hygiene appointment. If you have 
periodontal disease
, orthodontics, or other ongoing dental health issues, we might recommend more frequent visits.
What If I Have Anxiety or Am Afraid to Visit the Dentist?
Fear of the dentist and dental-related anxiety are quite common experiences for people of all ages. Sometimes the fear of visiting the dentist prevents patients from getting the regular dental care they need to maintain healthy teeth and gums. As a result, those with dental anxiety often develop oral health issues that go undetected until they've progressed into advanced stages of disease. At this point, the problems require lengthier, more expensive, and more invasive treatments to resolve. Our dentists want all patients to feel comfortable and at ease in our office regardless of their fears. We do our best to make every experience with us a pleasant and positive one. In addition to creating a calming office environment, we offer options for receiving dental treatments with 
sedation
 via oral prescription medications or nitrous oxide gas.
General and Preventive Dentistry for Your Whole Family
StoneRidge Dental Care is pleased to provide oral health care to patients of all ages. We strive to provide our patients with exceptional dental care designed to treat the whole patient and promote general wellness, starting with healthy teeth and gums. We offer our patients comprehensive preventive and 
general dentistry treatments
 tailored to meet their unique dental care needs. To learn more about our complete list of services or to schedule your next dental checkup and professional teeth cleaning, we welcome you to contact our dental office in Gahanna, Ohio today.