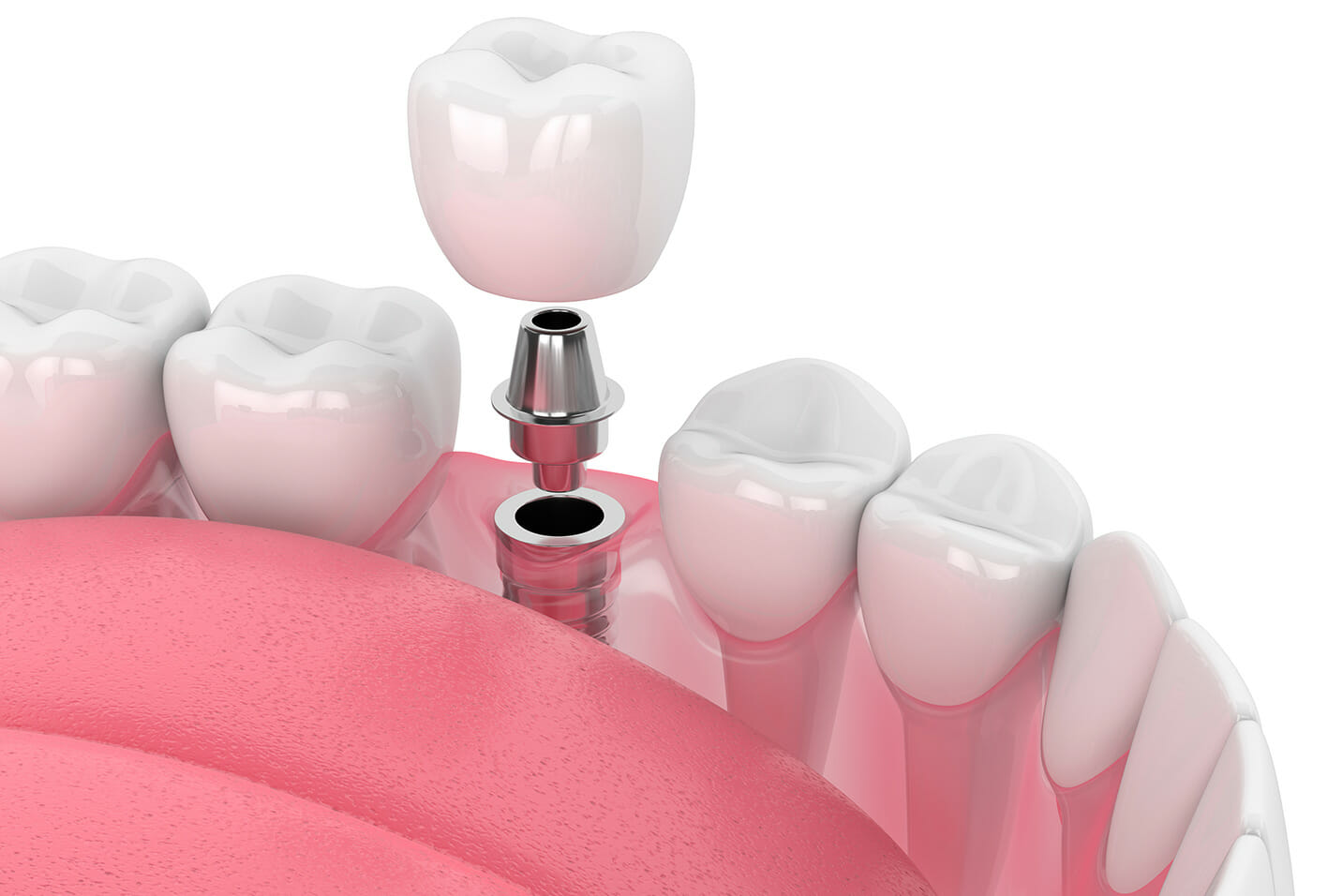 When you're missing a tooth, there are several reasons why you might want to replace it, including concerns about your appearance and the overall function of your teeth for chewing. A replacement also maintains the health of the teeth surrounding the gap and that of your jawbone.
When it comes to replacing a missing tooth, the most popular and effective tooth replacement by far is a dental implant. Our dentists at StoneRidge Dental Care are proud to provide our patients with dental implants, implant placement, implant restoration, and implant-supported dentures.
What Are Dental Implants?
A dental implant is a permanent tooth replacement option designed to closely mimic the form and function of a natural tooth in your mouth.
Dental implants consist of three parts:
The implant anchor, which is a screw-like appliance (usually made of a medical-grade, biocompatible titanium) that replicates a natural tooth's roots.
A dental crown that is custom-designed and made to resemble and replace your natural tooth while fitting seamlessly inside your mouth.
The implant abutment, a piece that attaches to the anchor and connects it to the dental crown.
The Benefits of Choosing Dental Implant Benefits
It's not surprising that dental implants are one of the most popular options for replacing teeth after tooth loss or tooth extraction because they offer patients a variety of benefits. Since they are permanently fixed to the jaw with an artificial root (the implant anchor), dental implants look, function, and feel just like your natural teeth.
Unlike other tooth replacement options, dental implants deliver pressure and stimulation to the jawbone, which prevents it from deteriorating over time. Additionally, caring for dental implants is just like caring for your regular teeth. While we might recommend adding a water flosser to your normal routine for a more thorough cleaning, you can continue brushing and flossing like always.
What to Expect When You're Getting a Dental Implant
Receiving a dental implant can be a fairly lengthy process, depending on your dental health and individual tooth replacement needs. Typically, the dental implant process includes the following steps:
Initial Consultation – We examine your teeth and gums and take x-rays to prepare for the procedure.
Bone Grafting and Ridge Augmentation – If necessary, we perform a bone grafting procedure to strengthen and augment the patient's jawbone in preparation for implant placement. Bone grafting is followed by a healing period.
Implant Placement – We place the dental implant during a surgical procedure and fit the implant with a temporary crown while your permanent crown is manufactured. The placement procedure is followed by a healing period during which we might schedule follow-up exams to ensure that the proper osseointegration of the implant and jawbone is occurring.
Crown Attachment – Once you've healed and your permanent crown is ready, our dentist permanently cements the crown to your dental implant's abutment.
Final Result and Ongoing Care – Your new tooth functions and looks like a completely natural tooth. Continue practicing good oral hygiene habits and enjoy your beautiful new smile!
Implant Restoration – Dental implants are designed to last a lifetime. Sometimes, however, your crown might need some work – especially, if it endures excessive wear and tear as a result of chewing on hard objects, grinding your teeth, or clenching your jaw. In the event your crown feels loose or becomes chipped or cracked, contact us right away for restoration.
Are Dental Implants Right for You?
While dental implants are a great tooth replacement option, they are not always the best choice for everyone.
To be a candidate for dental implants, you must:
Be healthy enough to undergo general anesthesia or sedation dentistry during your implant placement procedure.
Have good oral health and no signs of periodontal disease or oral infection.
Have a strong enough and robust enough jawbone to accommodate and support the implant anchor.
Additionally, if you use tobacco products of any kind, you might not be a candidate, as these can affect your ability to remain infection-free and heal properly following the implant placement.
Schedule a Tooth Replacement Consultation With a Dentist in Gahanna
To learn more about dental implants and all the tooth replacement options available to you, we encourage you to schedule a consultation with one of our dentists at StoneRidge Dental Care.