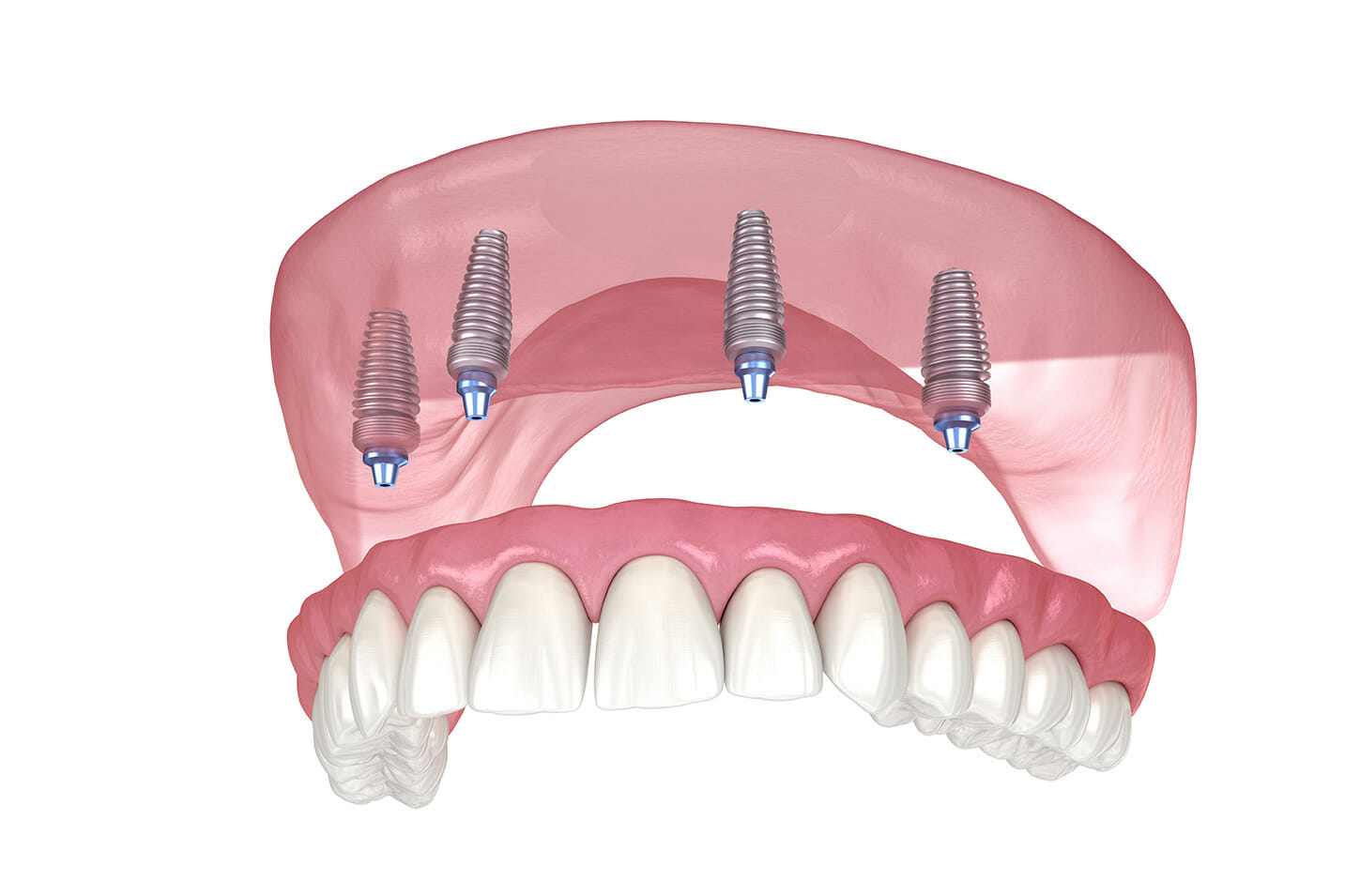 Missing all or most of your teeth not only changes your appearance but can have a negative effect on your quality of life, making it difficult to speak, eat, and drink as you normally would. Dentures have always been the traditional tooth replacement option for patients who are missing all or most of their teeth, but our dentists at StoneRidge Dental Care are proud to provide our patients with a variety of restorative dental care options designed to restore the form and function of their smiles. One of our most popular restorative tooth replacement options for these patients is all-on-four, implant-supported dentures.
What Are All-On-Four Dental Implants?
All-on-four dental implants are like a traditional denture that is permanently fixed to four dental implants. All-on-four dental implants are designed to replace an entire row (top, bottom, or both) of missing teeth.
The Benefits of All-On-Four Dental Implants
As a tooth replacement option, all-on-four dental implants offer a variety of benefits and advantages over traditional dentures including:
Jawbone support and stimulation
Superior comfort
Better function
Perfect fit
Easy care
Natural look, feel, and function
Since all-on-four implant-supported dentures are permanently fixed inside the mouth, they look, function, and feel just like your natural teeth. You won't experience any of the potential discomfort, slipping, or mouth sores that you might have when wearing regular dentures. Plus, you can continue enjoying all of your favorite foods. Additionally, implant-supported dentures deliver vital stimulation and pressure to your jawbone, preventing the bone from deteriorating over time.
Are You a Candidate for Treatment With All-On-Four?
While all-on-four, implant-supported dentures are an excellent restorative dentistry option, they are not right for everyone. Candidates for all-on-four implants must:
Be missing all or most of their teeth on either or both the top or bottom arches
Have generally good oral health with no signs of periodontal disease
Be a candidate for receiving dental implants
Be healthy enough to undergo dental implant placement surgery
If you're looking for a tooth replacement option or would like a better alternative to wearing dentures, we encourage you to learn more about all-on-four.
Smile Restoration With Our Dentists in Gahanna, Ohio
Whether you're missing one, several, most, or all of your teeth, our dentists can work with you to create a tooth replacement treatment plan designed to restore your smile's function and look while addressing your unique dental health needs and achieving your smile goals. To learn more about tooth replacement options like all-on-four implant-supported dentures, full dentures, dental implants, and dental bridges, we welcome you to schedule a smile restoration consultation with Dr. Conkey, Dr. Moberger, or Dr. Patel today.